It is exactly one month until my 26th birthday. I was looking over my list, and I have only satisfactorily completed 15 of my goals, leaving 10 currently unfulfilled. Some of them I know I won't be able to complete in the next month (e.g., #6: Get my passport and visit Canada; #12: Visit Yellowstone National Park; #22: Pay off half my student loan.), and some are still works in progress (e.g., #7: Develop an exercise routine and stick with it; #13: Learn how to make origami.) I know I won't complete all 25 goals before January 29th, but I don't want to beat myself up for it. Instead, I want to celebrate my accomplishments, because I might never have done some of these things had I not created this list (e.g., #9: Sing at a karaoke bar; #15: Run a 5K).
I also want to commit to completing the following three goals in the next month:
#7: Develop an exercise routine (and stick to it).
I won't really be able to measure my ability to stick to an exercise routine in only a month, but I do want to at least develop an exercise routine that works for me and my schedule. I've already started creating a spreadsheet to plan cardio and strength-training for six days each week, with stretching each morning.
#11: Make my own jewelry.
Seriously, how have I not made any jewelry? Well, besides learning how to weave a friendship bracelet. I hear-by vow to make a necklace, bracelet, and earrings before my birthday. I particularly love this idea below of putting a map of a place you love in a locket (from the
Bowie & Francesca Etsy shop
):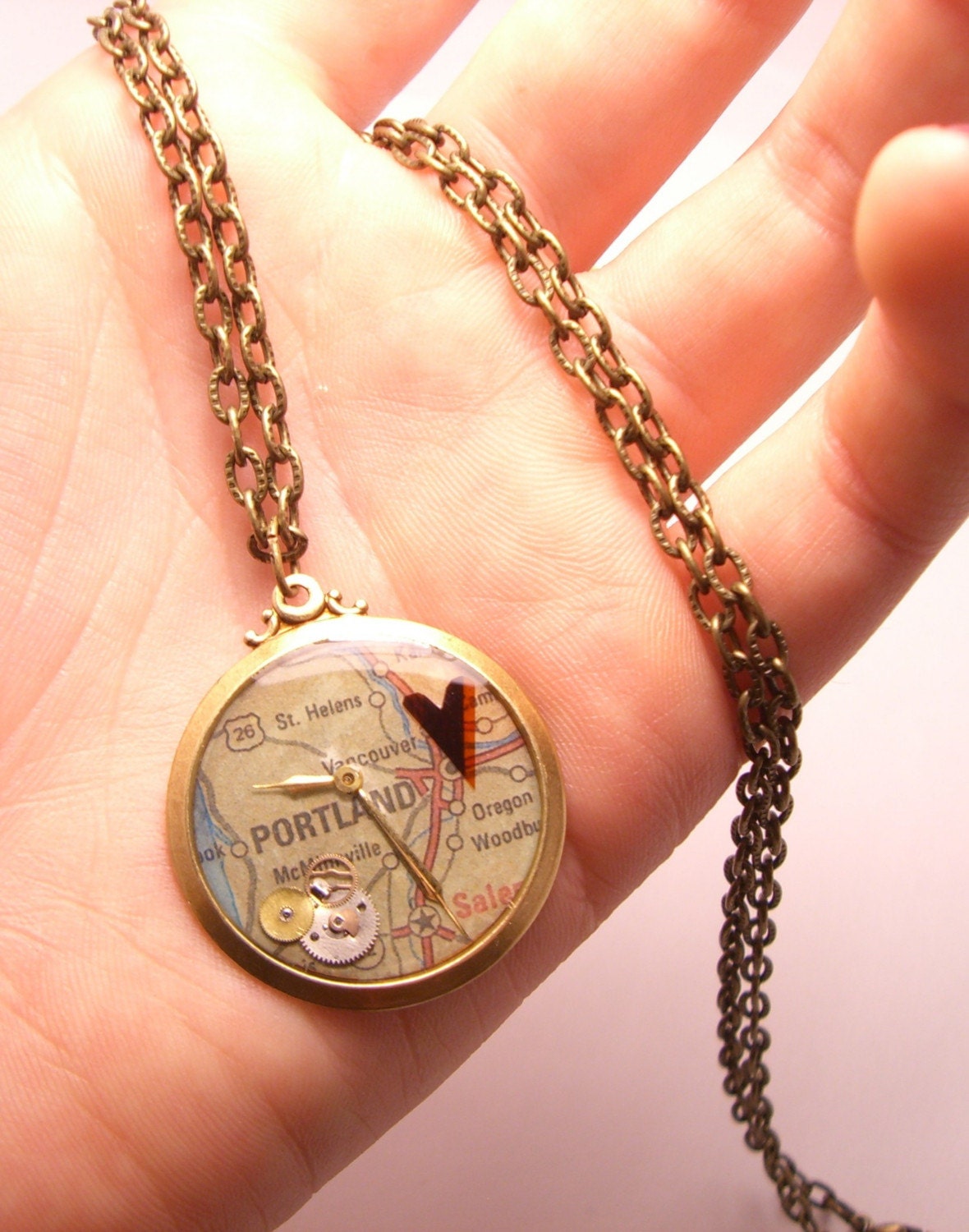 #13: Learn how to make origami.
I started learning how to make origami at the beginning of the year with Abby, and after many failed attempts, I crumpled the paper in frustration and never tried again. I want to learn, at a minimum, how to make a crane, a frog, and a lily.
I've already started working on my list for next year, which will entail 26 goals to complete before I turn 27. A couple of the goals I know I won't complete have transferred to the list, I'll be expanding upon some goals I completed this year, and trying some completely new things. I'm excited!